Music & Choir
The Music Program at St. John's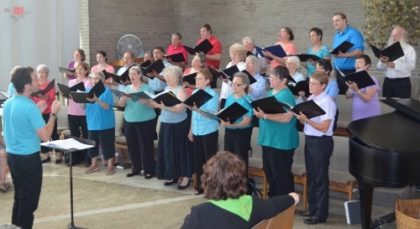 Music plays a significant role in the worship and life of St. John's. Sunday worship includes instrumental and choral music carefully selected by Music Director Jeffrey Stern, in collaboration with our minister, Reverend Mitra Jafarzadeh,  Piano accompaniment is provided by Adam Petersen.
Three out of four Sundays per month, the St. John's Adult Choir sings an anthem during the service. On the fourth Sunday, special music is performed by invited musicians from our choir, our congregation, our community, or Adam Petersen.
St John's Music Series
St. John's Unitarian Universalist Church is committed to acts of racial justice and building community through the arts. Accordingly, our 2016-2017 music series speaks truth to justice through jazz. The concerts in this year's series are
Saturday, Nov. 12 @ 7:30 pm – Jazz & Service: Memories from the WWII era, featuring the Brent Gallaher Quintet
Saturday, Feb. 28 @ 7:30 pm – Jazz & History: Music and Revolution, featuring the Mike Wade Quintet
Saturday, May 20 @ 7:30 pm –  Jazz & Hope: A Path to Justice, featuring the Phil DeGreg Quintet
Tickets for each concert are $10 for adults, $5 for students. Tickets can be purchased in advance online, or at the door on the night of each performance.
Dr. Catherine Roma Scholarship
On January 29, 2006 St. John's celebrated and honored our former minister of music, Dr. Catherine Roma for 20 years of service and building a beloved community. At that service we announced the establishment of the Dr. Catherine Roma Scholarship – a way to honor and perpetuate her work in the arts and social justice. The scholarship is open to graduating seniors from the four Unitarian churches in Cincinnati and Walnut Hills, Clark Montessori and the School for Creative and Performing Arts.
Students are nominated by their church or school administrator and then asked to submit a portfolio including a personal statement, resume, and three letters of recommendation. They are selected from their church or school for demonstrating outstanding qualities in the areas of arts, academics and social justice. A committee of judges from St. John's review the materials, rate the candidates and a recipient is selected. They are each awarded a $500.00 scholarship from funds that were generously donated by individuals in Dr. Roma's honor in 2006.
Recipients have included
2015 ~ Elly Kolesar of Walnut Hills High School
2014 ~ Elena Jordan-Keller of Clark Montessori High School.
2013 ~ Laine Kolesar of Walnut Hills High School.
2012 ~ Alexandra Wilson of St. John's.
2011 ~ Ryann Patrus of Clark Montessori High School.
2010 ~ Will Wagner of St. John's.
2009 ~ Haley McDaniel also from Walnut Hills High School.
2008 ~ Ann Cheng from Walnut Hills High School.
2007 ~ Jessica Muni, St. John's member
2006 ~ Katherine Alexander from Heritage Universalist Unitarian Church